Dog Grooming Services in Orlando, FL
If you are trying to find a pet groomer near Orlando, FL, then look no further than Woof Gang Bakery Waterford Lakes. Our highly-trained pet groomers deliver individualized service with a tender touch to have your pet feeling their absolute best. Our staff groom all types of dogs. Whether your dog needs a simple wash and teeth brushing visit, or it is time for a dab of additional pampering, our faithful team is here to assist with every one of your wishes for pet grooming. We provide a sanitary, safe, and hospitable area to freshen up your dog. During the time of scheduling, please specify your dog's age, temperament, and size category to better help us pair you with the correct groomer and services. Book your appointment today.
Curbside pick-up and drop-off is also available for grooming. Just call us to schedule an appointment. Then call when you arrive and a groomer will come to meet you outside. Once your dog is ready, we will give you a call. Just let us know when you've returned to pick-up, we'll take payment over the phone, and then bring your dog back out to you.
Non-anesthetic Dental Cleaning offered by our partner, Smiley Pet Stop

Full-Service Grooming
Our Full-Service Grooming includes the Luxury Bath, Mini-Groom, as well as a full-body haircut. Starting price $50.

Mini-Groom
Our Mini-Groom service includes the Luxury Bath, as well as trimming the hair around the sanitary area, the paws, and the face. Starting price $40.

Luxury Bath
Our bath service includes shampoo, blow-dry, brush out, nail grind, ear cleaning, anal gland expression, blueberry facial, and a spritz of perfume. Starting price $25.

Nail Clip & Grind
We cut nails to a prudent length, just short of the toenail quick. Nail trimming prevents painful nail cracking or nails breaking. Starting price $15

Teeth Brushing
Protect against bad breath, tooth loss, and gum disease with regular teeth cleaning for a healthy smile. Add-on to any grooming service for only $3!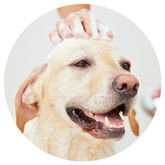 Therapeutic Shampoo
Shampoo therapy is necessary for pets with dermatologic ailments. A pet's coat operates like a magnet for all types of dirt, dander, toxins, fungus, bacterias, and irritants. To receive the optimum benefit from therapeutic shampoos, topical contact time during the course of application is very important. Allowing the shampoo to sit on the skin allows it to get in the skin to provide soothing moisture. Another important step of using dog shampoos is rinsing because surfactants can produce skin irritation when they are not totally removed. Therapeutic shampoo will leave your dog' skin healthy, smooth, pliable, shiny, and manageable.
Come visit our pet supply store in Orlando, FL specializing in quality food, treats, and supplies for cats and dogs.